What a Pain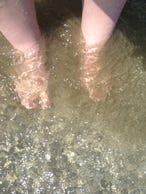 ​A lot  of my work is with people who have injuries or suffer with chronic pain. As someone who has been there I know the challenges and desperation this can cause. The picture is of my feet in the cold sea earlier this year sans pain. 
Some years ago I was working at a golf club with a group of nine and there were two people with shoulder and neck pain, three had low backache, one had a headache and one suffering with IBS. The two people remaining who didn't have any pain felt quite left out. If you ask around most people experience discomfort of one sort or another quite frequently, especially, backache, headaches and the ilk. It might be just general aches and pains, pain following injury or surgery or a stress related problem in the form of tensions in the body.
And of course, pain leads to stress which leads to pain and so on. It can be a seemingly never-ending downward spiral and when this happens it is called chronic.
Before any pain can be managed it is important to ascertain the cause. Pain is always a signal that something isn't right or that an injury has occurred and anything new must be discussed with a doctor or similar. But, pain from stress, in the form of a holding pattern or as an emotional response, can be excruciating and seem like an injury reaction.
Chronic pain, whatever the cause, is stressful and debilitating but it can be therapeutic to be doing something, i.e. taking responsibility and action towards alleviating the discomfort/agony. Most doctors are pleased if their patients want to take control and attempt exercise, play games or participate in sport and taking part in something is also good for mental health and can help to stop depression creeping in. However, how is it even possible when pain is so severe it's a challenge to get out of bed to go to the bathroom?
Back to the original group - all involved were regularly taking pain killers.
They all wanted to live a good life and would just take extra pills either before or after any activity. Too many pain-killers can cause problems of their own so it is not good to take an excessive amount.
However, although I would certainly not suggest stopping the popping if you are going to participate in games or sports regardless you may as well try to manage pain and tensions in a natural easy to manage way.
Your perception of discomfort is important. Pretending the pain isn't there is not the answer. But, being aware of, and then managing it, is.
​If we are relaxed we hurt less so breathing properly is the first step. We tend to breathe in and hold our breath if we experience discomfort but that makes our muscles tense and sore. Examples are fist clenching, jaw locking shoulders up and bowels tightening and there are many others.
If you have any pain now think about where it is and imagine breathing into that part of your body while mentally soothing the hurt away. Think about how you would feel without any pain and how you would stand, sit speak, walk, swing a golf club etc. Act out these movements or behaviours in your mind. If you do this a few times your subconscious can begin to find ways to create it permanently.
​
Here is a technique you might find useful especially for helping a headache - but beneficial for any type of pain. Of course prevention is always better but sometimes we are not quick, or aware enough and we're not on a mission anyway because we are too normal! Identify exactly where you are feeling pain right up to the edges of it. Be specific. Does it end level with your left ear, is it resting on an eyebrow or is it drilling into you shoulder? When you know, begin to focus on softening it and rubbing it away from the edges inwards. However you would do this is right for you - whether you visualise, feel or talk to the pain. Again imagine not having it. Play a mental game of something you enjoy or would like to try, feeling well, with your body relaxed and your mind clear. Doing this when relaxed releases natural endorphins that create pain relief and make you feel good. This also happens when exercising or if we are busy. Have you ever hurt yourself but either not noticed or not felt it until later when you stopped and no longer had a distraction?
Visualisation in very useful because you can personalise it in any way that you like. You can create numbness - like a local anaesthetic at the dentist, relax muscles, close imaginary gates that slow pain or change the shape of it to make it manageable.
Here is the method the group used:
Sit comfortably and start the relaxation process by regulating your breathing and slowing everything down - including your thoughts. For a few moments just 'be'. Now direct comfort to any areas where you think it might be needed. If you have discomfort in any joints soothe them with an inner balm that dissolves away any build-ups and lubricates the whole area to allow a freedom in movement. You can create warmth or coolness depending on your needs just by thinking about it. Drift away into a dream knowing that when you 'awaken' you will feel more comfortable. You need only do this for a few minutes.
Be as creative as you can and your mind will do all it can to help you
---